Travel Visa and Passport Expediting Services
Requirements for obtaining a Tourist Visa for Laos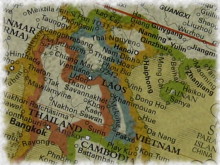 Country: Laos

Visa Type: Tourist


The following are required to obtain a Tourist Visa for Laos
EDS SERVICE REQUEST APPLICATION FORM
Complete and return this form with all required information.
EDS Service Request Application Form
PASSPORT
Original signed passport valid for at least 6 months beyond stay.
Your passport must have at least 1 clear blank visa pages available for the visa stamp(s).
EDS can obtain passport services for you on your behalf if needed. Please see our PASSPORT section.
APPLICATION FORM
Three (3) Visa application forms completed and signed. All questions on the application form must be answered. Failure to complete all required fields on the form will delay the processing of your visa.
Laos Visa Application
PHOTOGRAPHS
Three recent 2" X 2" passport type photographs, in color, front view, and with a plain light background.
LETTER OF CONFIRMATION or INVITATION
None Required
COVER LETTER
None Required
OTHER DOCUMENTS
Proof of departure--Computer generated flight itinerary from the airline or a travel agency, copy of airline ticket or a corporate letter stating travel plans. A signed letter on the travel agency's letterhead confirming round-trip booking may also be submitted.
IMPORTANT NOTES
Visas cannot be changed or extended. If your travel plans change after the visa is issued you will need to re-apply for a new one.
Also note: Any visa applicant may be interviewed by a consular officer if necessary.
VISA VALIDITY All types of visas are issued for ONE (1) entry and must be used within TWO (2) months of issue date. Please do not apply more than 60 days before your scheduled date of entry to Laos. You can stay in Laos only up to fifteen (15) days . If you wish to stay more, please contact local authorities upon arrival to Laos.
BORN IN LAOS? If you were born in Laos or one of your parents has LAOS citizenship and you apply for Laos visa with a new U.S. passport, you'll be granted visa only if the decree regarding the loss of your citizenship has been issued.
PAYMENT
The consulate only accepts United States Postal Money Orders for the cost of the visas. If you prefer, EDS can obtain the money order for the consulate. EDS accepts VISA, MasterCard, Discover Card, and American Express. Money orders and cash are also accepted.
Consular Rates

Standard
5-6 Days
Single Entry 2 Month
$50.00
Standard
At Least 8 Business Days
Rush
4-8 Business Days
Emergency
3 Business Days

EDS Service Rates

$99.00
$205.00
$300.00
A $15.00 surcharge is added for non-US Passport holders.
SENDING YOUR DOCUMENTS
When you have completed the visa application form, the EDS Service Request form, and this pre-shipping checklist, you may send all of your documents to the address below. We recommend using FedEx, UPS, DHL, or the USPS Express Mail for next-day delivery.
Embassy Document Services
Attn: Visa Processing
14908 Honey Locust Court
Woodbridge, VA 22193

All same day requests must be received by 8am. We recommend using FedEx, UPS, or DHL. Applications received after 8am will be submitted the next business day.